Biscuit Eater Bakery has hit their sweet spot with their new location in the Lufkin mall. With plenty of foot traffic the family behind the business settled into their roles as bakers, decorators and even baristas. What started as a hobby home baking business has steadily grown over the years. Misty and Gary Mitchell are both teachers and have been married for 25 years. Having met in 7th grade through Misty's cousin, the young couple dated on and off despite Gary living in Houston and Misty in East Texas. Misty is a graduate of SFA and is the media specialist at Broaddus I.S.D., and Gary is the technology director. Both are passionate about positively impacting the lives of young people. They are extremely approachable and candid about sharing the story behind the bakery.
So how did two school teachers with children of their own get into the baking business? Misty has had a lifelong dream to open a bakery. Inspired by her mother and great grandmother to cook and bake she wanted to share the same sense of family and community by bringing people together with good food. Particularly dessert, as it is often accompanied by a cause for celebration. There was only one problem with Misty's vision. She admittedly is not artistic when it comes to decorating. Her talent lies in the baking itself. When Gary and Misty would be tasked with cooking and baking for family events the decorating portion fell to Gary. When he demonstrated his skills with fondant by making a skydiver with a family member's likeness they received so many compliments it reignited Misty's dream of opening a bakery.
After honing their skills at home they stepped out of their comfort zone to open a small storefront. What followed was a quick lesson in time management, noting there simply wasn't enough to both work full time jobs, raise 2 busy kids, coach sports AND run a brand new business. While some couples would have declared defeat and shelved their dreams, Misty and Gary decided to take what they learned and wait for the right time to relaunch their business. Now that their daughter and son are older, they join their parents in the bakery along with a handful of other staff members who are considered family. As I browsed the selection of cupcakes, cookies, pies and cakes I couldn't hide my surprise that Gary had no formal cake decorating experience. I asked him, incredulously, how he can pull off some of the more extravagant designs. He responded with likening it to construction. He said he loves to build and you follow a similar thought process in creating cakes. That may be true but I have followed my fair share of YouTube tutorials and I think you still need some serious artistic talent. Gary is pretty humble about the whole thing but the fact is, he is a very creative cake decorator.
Everyone admires a beautifully decorated cake but it's the flavor that really leaves a lasting impression. The staff I talked to each had a different favorite, I think that's a testament to all of the treats tasting delicious. Some notable flavors and best sellers include the, "I Love Lucy" a red velvet cake with chocolate filling, cream cheese icing, topped with a brownie. "Dolly's Cup of Ambition" is a fruit cocktail cake with cherry vanilla buttercream, topped with Dolly's signature pink butterfly in white chocolate. Gary's favorite is the "Elvis" you guessed it – banana cake with peanut butter frosting topped with a chocolate drizzle. While Misty leans toward "Cookie Monster", double chocolate cake with vanilla buttercream and a chocolate chip cookie drizzled in chocolate to top it off. After practically drooling over the flavor descriptions I asked Misty about her great grandmother and how that connection inspires her to this day. While most bakers would guard their family recipes, at Biscuit Eater Bakery recipe cards are painted, larger than life as artwork on the walls. Misty described growing up and how she loved to be in the kitchen with her Great Grandma, Maime during the summers. Having fresh produce from their garden, they would prepare a smorgasbord of food for lunch expecting any number of family to casually stop by to eat and catch up. Baking for other people gives Misty a chance to share that goodwill and connect with her Great Grandma at the same time.
While I have been continually impressed by Gary's creativity, from a boho inspired, lifesize longhorn skull cake adorned with flowers to multiple tier wedding cakes it doesn't seem like there is anything he can't do. I was also interested in hearing about the cakes that don't make the Facebook page. Gary said the most unusual cake request he had was for a groom's cake. He was asked to create a possum wearing a welding mask. Turns out the groom is a welder and his nickname is possum. Gary obliged and the customer was happy. He's been asked to do a number of East Texas animals like wild hogs (groom's cake) and an armadillo. He's just as adept at making unicorns, ballet slippers and mermaids for a little girl's dream cake. Or a girl of any age, I totally had a unicorn birthday cake 2 years ago – don't judge. Gary said he has done a handful of eyebrow raising cakes like a bachelorette cake that was half "Final Fiesta" themed and half "50 Shades". Or the new and improved bustline cake that a group of girlfriends bought to commemorate their friend's recent plastic surgery. Gary and Misty said they have to have a sense of humor in this business and you need to ask the right questions when taking an order.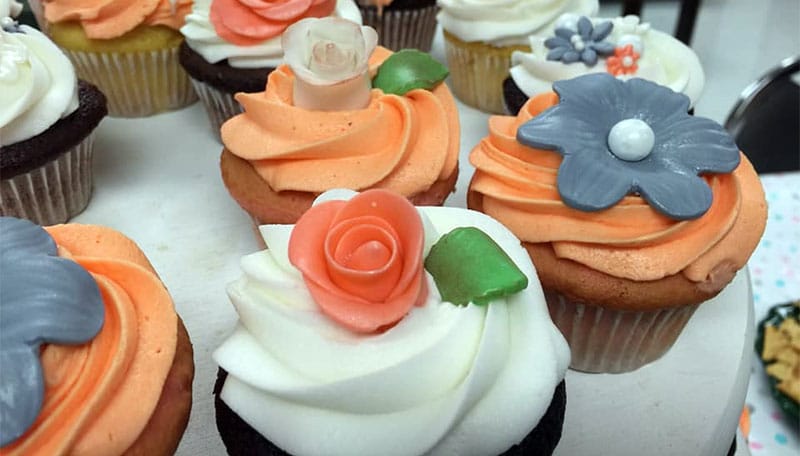 Misty described color as one of the biggest challenges in making the perfect custom order. "Light pink" can mean a lot of different things to different people. Misty asks for pictures or will give comparisons to customers ensuring they will be pleased with their custom order. Misty said they always put their heart into everything they do. Their tagline is, "We love to bake together" and I can tell from the interactions between the staff that their team subscribes to the same mentality. I know not everything can be unicorns and rainbows, even in the cake business. Misty said she can be blunt with her criticism but everyone acknowledges it's coming from a good place. Gary said he may be excellent at decorating but he prefers to have his spelling double checked rather than have his cake end up as a meme. Neither one is good at sitting still so the fact they leave one job to go to another is not completely surprising. Still, it's not without its challenges but since the kids are old enough to work with them it guarantees family time.
If you are interested in some family time, Biscuit Eater Bakery has started hosting classes in a party room adjacent to them inside the mall. Look for more cake decorating classes and events on their Facebook page. If you want Biscuit Eater Bakery to help elevate your next event check out Maime, their dessert on wheels trailer named after Misty's Great Grandmother. She deserves extra recognition since her saying, "Son of a biscuit eater!" is what inspired the name behind the bakery. Gary took it down to the frame and rebuilt it to go to your upcoming wedding or party. Next up is Sleepy Gene, the dessert trailer that will maintain food truck status so you can visit her at local festivals, fairs and events. The bakery is also involved in supporting their community. They have a soft spot for students and education and have supplied baked treats and gift certificates for fundraisers. We think Gary should retire in a couple years because Biscuit Eater Bakery can only move up from here.
Find Biscuit Eater Bakery in the Lufkin Mall
Visit their IG and FB page @biscuiteaterbakery
Call 936-219-5772 to place an order.