My husband and I understand all too well the challenges of operating multiple small businesses while maintaining some semblance of home and family life. I think we may have met our match with Amber and Samuel Richmann, founders and owners of Cafe 1948 among other business ventures. These two entrepreneurs are actively contributing to the growth of downtown Tyler, Texas and I was excited to sit down with them and learn more. I discovered Cafe 1948 on Instagram while I was searching for things to do and experience in Tyler. Their matcha rose latte popped up along with several other exotic and delicious-sounding drinks. When I mentioned this is what got me to visit them it came as no surprise that Samuel and Amber have traveled all over the world and get a lot of inspiration from their experiences abroad.
The young couple met in Hawaii in 2013 serving and teaching in YWAM " Youth With a Mission" school. They seemed to have a lot in common with interests in photography and travel. Samuel is from Flagstaff, AZ and grew up in the coffee business. His family roasts coffee and has owned and operated several coffee shops over the years. Amber is a Tyler, TX native and they both agreed they wanted a home base where they could afford a nice place to live, raise a family and still have the means to continue exploring the world. Married in 2015 Amber said the only thing missing from their outdoor wedding was coffee. Between the two of them, an early plan was hatched to have a mobile coffee business to cater weddings and special events. About a year later Samuel's Dad found a run-down, little trailer rusting away in a lot in Arizona. It was a family affair renovating and restoring the old trailer to bring it to its newfound glory. The trailer was manufactured in you guessed it, 1948.
With the trailer mobile and equipped for improving the quality of people's day with coffee, Cafe 1948 was invited to serve in the back of the Plaza Tower as people were coming to work, where they did their best to offer excellent customer service and unique drinks while braving intolerable weather outside. It was obvious that if customers were excited about the concept of Cafe 1948 and would brave the elements to get a taste it was time for a more permanent residency. They moved inside the Plaza Tower building and became the lobby's signature coffee shop. Inspired by European culture where family and friends gather together at small local cafes to share a drink and a bite, the pair have recreated that theme with string lights overhead and patio like seating.
It's not unusual to be booked for 4-6 events per month. With a new baby, their roles in business continue to evolve. In all fairness, they have had some practice juggling responsibilities long before baby Bellamy came along due to their other business ventures. Samuel also co-owns Lightbox Collective, a boutique marketing agency that specializes in film and photography. In fact, Samuel has done much of design, marketing and website development for their businesses. He also loves to create new flavor profiles for drinks which Amber enjoys naming. Amber currently does all the ordering and payroll and is still a bright ray of sunshine in the customer service department. The first time I visited Cafe 1948 I watched her hand off baby Bellamy to her mother in law so she could hop behind the counter and help out during a particularly busy morning. Her bright, effortless smile comes easily and it's plain to see that she's in her element when she's serving her customers.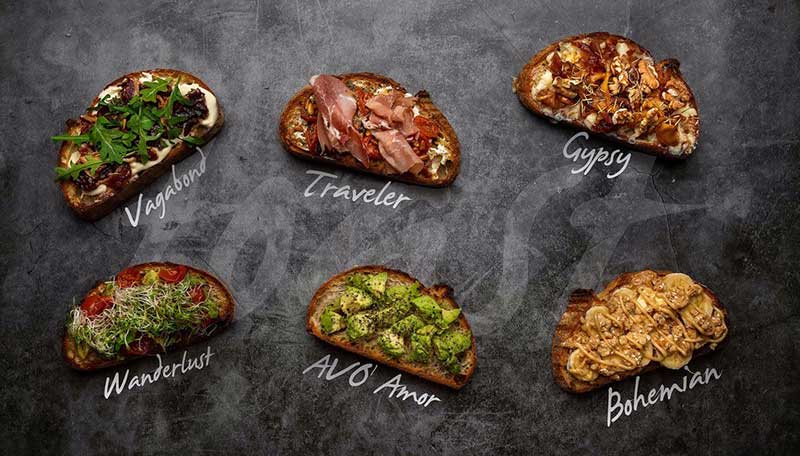 People are getting more than they bargain for when they frequent Cafe 1948. Regardless of whether your health is at the forefront of your own thinking it most assuredly is at the forefront of Samuel and Amber's thinking. While they may not use it as a marketing ploy, they are personally invested in health, wellness and our environment. 95% of the ingredients used are organic. They also offer gluten-free items, locally sourced ingredients and follow the guidelines for fair trade practices. Their packaging, cups, plates, etc. are all recyclable or compostable.
Most recently they partnered with local bakery, Delightful Food Company. They have introduced a line of avocado toast made with 100% organic ethically sourced ingredients. Their specialty drinks are customer favorites along with their seasonal selections. Personally, Amber likes the Brickstreet Grind while Samuel is more traditional and favors a cappuccino or americano. They both credit exposing people to new flavors and combinations as a rewarding aspect of business ownership.
While Cafe 1948 is flourishing the couple has plans to open a brick and mortar coffee shop, juice and smoothie bar, with quick and healthy meal prep staples along with grab and go items for breakfast and lunch. In spite of their growth, they are quick to point out they don't want to lose the passion or integrity behind what they do. With more graduates, artists and millennials moving to Tyler, there is a market for what the Richmann's are selling. They are honest about the amount of work that goes into being an entrepreneur. It's not 40 hour work weeks, it's 100. Success means different things to different people but as long as they can be together, spend time with family and continue to travel they haven't looked back.
Amber and Samuel are enthusiastic about the growth Tyler is experiencing. Connecting with others and encouraging their fellow entrepreneurs on their own journeys is an integral part of their own community outreach. They give a portion of proceeds to non-profits and people in need in the community. I'm always seeing giveaways, half-price drinks and community nights on their social media accounts. They even participate in a community pay it forward fund.
If you find yourself in Tyler, Texas you won't be disappointed in the quality, flavor and service that Cafe 1948 has to offer. Not to mention you are supporting multiple local businesses along with community outreach. I really appreciate the effort that goes into creating a cafe environment where I know my purchase will make a positive impact on my local economy and our environment. Visit their website to view the full menu at www.cafe1948.com
Cafe 1948 is located inside the Plaza Tower lobby
110 North College
Tyler, TX 75702
903-805-8527
M-F 7-5
Sat 7-3
Sun closed
Social Media: @cafe1948