I got my first job at a pet store before I turned 16 years old. With the help of my parents, they dropped me off and picked me up until I got my driver's license. I had a car to get back and forth to work. I have worked as a waitress, for a law firm, a florist, at a bookstore and a health food store while attending college full-time. I never really struggled to find work and I had jobs that worked around my school schedule. I can't imagine how my life would have been different if I couldn't rely on my parents to gain early job related experience.
While I never made a lot of money I always had a support system that wouldn't have let me go hungry or without a roof over my head. That is simply not the case for about 20% of women in Longview, Texas that live below the poverty line. Many of these women have children. So why are women disproportionately impacted by poverty compared to men? Many factors come into play, industries like retail and hospitality that traditionally offer women more flexible hours in order to care for their children pay significantly less than jobs often held by men like construction, engineering and energy.
While there is change happening women are still paid less than their male counterparts in spite of their seniority or work experience. Lack of affordable childcare is a huge hindrance for women. Not to mention the costs and health implications of pregnancy that face women. It is beyond difficult to escape poverty, particularly when that is all you have known. Hunger, homelessness, utility cut offs all affect a woman's ability to find work and stay employed. Not to mention women harmed by abusive relationships. All of these factors paint a pretty bleak picture. While shelters offer a safe place and cover basic needs for women and children they are limited in their ability to provide customized job training in order to set women up for long term success and independence.
That's where Heartisans Marketplace comes in. Established in 2014, their goal as a volunteer driven 501(c)(3) nonprofit organization is exactly that. What appears to be a unique gift shop located in downtown Longview is actually a living, breathing customized job readiness program geared towards unemployed women living in the local community. When I walked through the front door I had no idea that my purchase of a hand poured candle or beautiful letterpress coasters would directly impact the future of women and children striving to make a positive change. Behind the scenes is CEO and Founder, Julee Rachels. With a business background from Sam Houston State University, Julee worked for Eastman, did legal work for 22 years and co-owned the Cook's Nook in Longview where she hosted a cooking school. As a woman that gives me the impression she rarely sits still, Julee also volunteered teaching healthy cooking and exercise for low income families.
She not only connected with these families, she became personally invested and it became clear that these women wanted out of low income housing but lacked the skills to do so. After careful research and taking inventory of her resources Julee gathered a team of volunteers, mentors and tutors dedicated to helping homeless or disadvantaged women. Partnering with Longview Economic Development Corporation (LEDCO) was a key step in providing a National Career Readiness Certificate (NCRC). In addition, Heartisans has a partnership with Kilgore Community College. Julee has worked diligently to connect women in need with medical, dental, vision and legal help. By taking care of their personal needs she clearly is devoted to setting women up for long term success. One of the things that sets Heartisans apart is the fact they go to great lengths to find a career path that fits the needs and long term goals of each individual. While women are enrolled in the program they attend Monday through Thursday and are fed both literally and spiritually by volunteers. In fact, community volunteers account for over 1,200 hours per month. Whether they offer their skills in sewing, retail or transportation and tutoring there is ample opportunity to share your gifts and talents to make a difference. Even if you don't have time to volunteer your donation provides education fees, equipment, supplies, transition to independent housing and much more.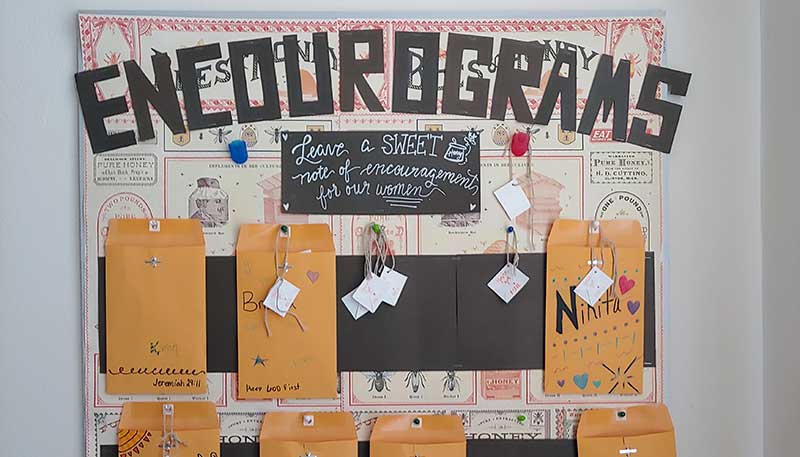 The shop itself is currently open while it undergoes renovations. Since the concept was introduced in 2014, the shop and program have exceeded Julee's expectations. You can find a wide variety of merchandise from handmade edible items like their best-selling Dr. Pepper peanut brittle to gift boxes curated for teachers, friends, baby showers and much more. The in-house studios produce at least half of the goods for sale and are of professional quality. I loved their 1885 Chandler & Price letterpress machine and their handcraft studio that produces journals out of vintage books. Honestly you could get lost wandering around shopping. What isn't made in-house comes from Dallas Market where special attention is given to selecting items that make thoughtful gifts or a little self indulgent treasure. Where else can you shop local and know your patronage positively impacts someone's life?
Julee sites lack of confidence as a challenge for many women. She firmly believes there is always hope. She acknowledges change is hard and everyone has their own struggles but if you are ready to make a change, Heartisans is there with open arms. To date more than 65 women have completed the job readiness program. These women are actively working in our community and are able to provide for their families, even seeing their own children going off to college in the Fall.
We want to extend a huge thank you to Julee, her team and all the volunteers that make a difference everyday. You remind us of how much good there is in the world and we look forward to supporting you and sharing your mission.
For more information on how you or your business can contribute visit their website: http://www.heartisansmarketplace.com/
Follow them on social media: https://www.facebook.com/heartisans/
IG @Heartisansmarketplace
112 W. Methvin St., Ste. C, Longview, TX 75601
903.431.1188