A couple weeks ago we were at the Longview Farmers Market sampling some of the best goat cheese I had ever tasted from Haute Goat Creamery. Full of flavor and offered by a local family run business out of White Oak, Texas I had to know more. Full disclosure I have yet to meet a cheese I don't like. I know some folks are pickier when it comes to cheese flavors or textures and may think they wouldn't like goat cheese. However, there are so many different kinds to choose from. Not all goat cheese is spreadable. The "Manchegoat" is a firmer cheese perfect for slicing. There are also blue cheeses and even feta.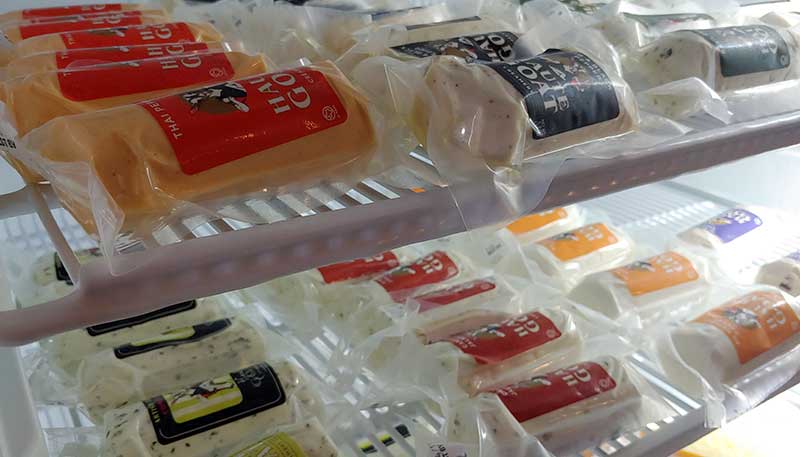 Jeff and Laura Vanderbilt welcomed us to their storefront where the cheese is made in small batches with fresh goat milk delivered from a local dairy outside Sulphur Springs. Maybe their cheese is exceptional because the goats are happily munching on pasture 24/7. They can retreat into the shade whenever they like and no hormones or antibiotics are used. In fact, every batch of milk is tested to ensure that no antibiotics are present . Laura personally visits the dairy farm at least 3 times per year. Together with the dairy farmer they plan for next year's anticipated milk production needs which translates into how many goats the farmer needs. Right now the herd consists of La Mancha, Nubian, Alpine, Saanen, and some Oberhasli and Toggenburg goats. Breed variety ensures there are goats producing milk all year and also allows for breaks so the animals may have a rest period. Again, happy goats.
In spite of the dairy farmer's best efforts in keeping a happy, healthy herd, goats have a higher mortality rate as they are susceptible to more parasites than cows. They don't produce as much milk which makes goat milk more expensive overall. On the plus side, goat milk is easily digestible. So why goats and not cows? For that answer we have to go back to the beginning. Haute Goat Creamery already existed before Laura entered the picture. In fact, her soon-to-be son in law at the time worked for the original owner. Back then it consisted mostly of a dairy farm. Upon meeting the original owner, Laura was intrigued by the process of making cheese and ultimately feeding people, which is her passion. The "accidental cheese maker" as Laura has dubbed herself was born.
After some convincing, a multitude of classes and a whole lot of research, Laura convinced her husband that she wanted to try her hand at small batch cheese making because the original owner wanted to sell. As long as they didn't have to keep the goats themselves (living in the suburbs of Longview made that an impossibility), Jeff was on board. At the time he had yet to retire from his full-time job at Eastman Chemical Company as an organic chemist. Fast forward a couple years as the business grew, Jeff now handles milk receiving, unflavored cheese production, wholesale orders, shipping and receiving, sanitization and customer communication. I joked, "so much for retirement", but as Laura stated, he wouldn't have been the type to sit still anyway.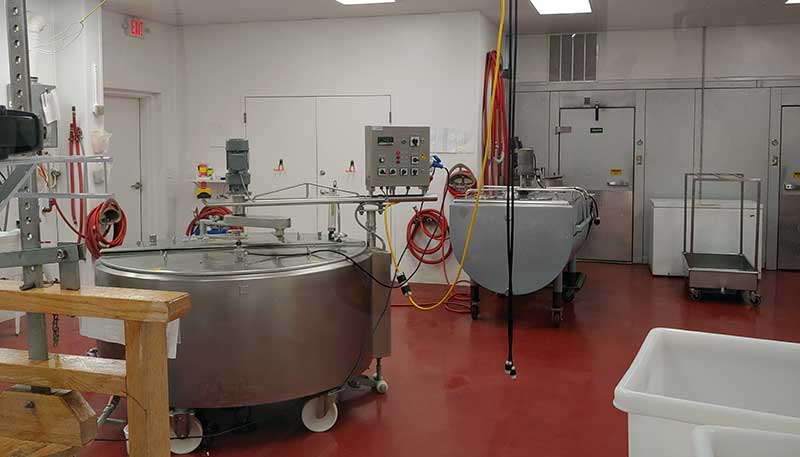 Laura is no stranger to travel when it comes to curating the best quality products to make cheese and to educate people on the cheese itself. Her time commitment has paid off because they recently procured a coveted spot in 10 Central Market stores across Texas. You can also pick up cheese from The Granary, Skinner's, Kyle's Corner Market and Farmers Markets like the one in Longview, TX and Shreveport, LA. Not to mention local festivals and restaurants. For a full list of retail locations visit their website. If you can't make it to one of the retail locations the cheese can be shipped to Arkansas, Oklahoma, Louisiana and Texas. Local partnerships with businesses like Oil Horse Brewing have also increased their exposure and fan base. Their best seller is the Fig & Black Pepper which happened to be one of the original flavors Laura developed. Since then, there are at least 7 flavors of chèvre (spreadable goat cheese) and some other crowd pleasers include the Thai Pepper and Chimichurri.
I asked if Jeff and Laura eat goat cheese every day because I certainly would. While they may not consume cheese daily, yogurt is another story. Also made in small batches their plain goat milk yogurt is divine served with fresh fruit, granola or a little honey. It is also an award winner and a favorite amongst their grandchildren. Which brings us to family. They are the first taste tasters when Laura develops a new flavor. She has a few in the works so keep your eye out for a potential pumpkin and a citrus flavor. After family they rely on their employees before introducing a new variety. They literally have a winning team because Haute Goat Creamery has award winning cheeses ranked by the American Dairy Goat Association.
After 23 years married, 6 children between them and 4 grandchildren I wanted to know how the business has evolved and what the challenges are. Laura was candid with us about underestimating how long it takes to run a business before seeing a profit. It has been a labor of love and not without its growing pains. Just the amount of time it takes to manage the workload takes Laura away from interacting with her customers more than she would like. She was adamant about not losing that connection. They have traveled out of State to attend cheese making classes in Vermont and Massachusetts. They would likely attend more classes and even cheese making competitions but as a small business it's difficult to step away. They have started introducing some raw cow's milk cheeses, follow them on social media to see what they are up to.
Jeff and Laura are incredibly approachable and passionate about what they do. If you would like to elevate your next party or event, give them a call. They do limited specialty catering. They also give back to their community through participating in local fundraisers and partnering with other small businesses like Iron Farm Meat to help bring awareness to their brands as well. If you want to try your hand as a cheese maker they recommend you go through the New England Cheese Supply Company for supplies. Or, like me, you can just daydream about making cheese while you enjoy some already made perfection from Haute Goat Creamery.
Haute Goat Creamery
1908 East US Highway 80, Suite 2
White Oak, TX 75693
Website: www.hautegoatcreamery.com