Breakfast is my least favorite meal of the day. There, I said it. I love breakfast food but I prefer it for dinner or brunch is right up my alley. Maybe it's because I don't consider myself a morning person and all I really want first thing is my coffee. Food is more of an afterthought and I'm trying to be better. So what can I make ahead of time that I don't have to do much to prepare in the morning? Enter skillet banana bread that can be customized to your families likes/dislikes or dietary preferences. If you don't have a cast iron skillet this recipe does just fine in a loaf pan. Your cook time will increase but other than that no change necessary.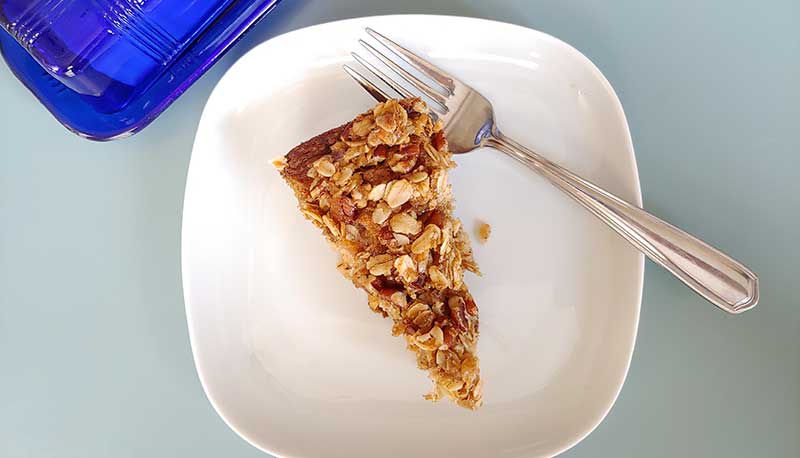 Prep Time15 min
Cook Time50 min
Total Time1 hr 5 min
Skillet Cook Time30 – 35 min
Bread Ingredients
1 stick butter
3 large, over ripe bananas
½ cup applesauce
2 large eggs
1 teaspoon vanilla
2 cups all purpose flour
1 cup sugar (or substitute alternative sweetener)
1 teaspoon baking soda
½ teaspoon salt
1 teaspoon cinnamon
Oat Crumble Topping (optional – but delicious)
1 stick melted butter (substitute coconut oil)
1 cup oats
½ cup chopped pecans (or walnuts)
½ cup brown sugar
1 teaspoon cinnamon
Bread Instructions
Step 1
• Preheat oven to 350 degrees. Spray your skillet or loaf pan with non stick cooking spray or butter or use parchment paper. Set aside.
• Melt 1 stick of butter in a microwave safe bowl. Add bananas and apple sauce and mash with a fork until well combined.
• Add vanilla and eggs to the same bowl and stir with a fork until all the eggs are fully incorporated.
• In a second mixing bowl combine all dry ingredients for the batter: flour, sugar, baking soda, salt and cinnamon. Whisk until combined.
• Add dry ingredients to the wet and stir with a spatula until just combined.
• Pour your batter into prepared skillet or loaf pan.
Oak Crumble Topping Instructions
Step 2
• Melt 1 stick of butter in a microwave safe dish.
• Add oats, pecans, brown sugar and cinnamon. Stir until combined.
• Gently spoon topping over batter until evenly distributed. Press down slightly.
Bake your skillet banana bread for 30 minutes and check middle with a toothpick. For your loaf pan increase cooking time to 45-55 minutes checking middle with toothpick.
Let cool completely and enjoy with coffee, tea, a cold glass of milk or a scoop of vanilla ice cream!