One of the things I love about East Texas is the fact there is never a shortage of things to do. This is especially true of kid friendly activities. The main challenge (and why I do what I do here on ETX Life) is finding those activities. I feel like I discovered one of the crown jewels here in Lufkin, Texas at The Naranjo Natural History Museum. Typically museums like this are located in large Cities like Houston or Dallas, leaving out a huge community of adults and children alike due to travel limitations and admission prices. This was the driving factor behind Dr. Neal Naranjo's vision when he and his family decided to turn his collection into something to be shared. I have yet to meet a kid who isn't enthralled with dinosaurs. I find them fascinating myself, so I was very excited to meet Veronica Amoe, the museum's manager. She was kind enough to patiently answer all of my questions while our daughter wandered the museum at her own pace. A graduate of SFA, Veronica started as an intern and has been with the Narajo Museum for seven years. She was a wealth of information since she has been a part of the museum since the beginning.
Dr. Naranjo grew up in Lufkin and raised his family there. He has traveled all over the world and has had the privilege of teaching at prestigious universities such as Harvard. His doctorate is in neuropsychology so my obvious question was, how did he segue into paleontology? Like most kids, he was interested in fossils as a young boy and later as an adult, took several paleontology classes at the University of Texas. He identifies as an amateur paleontologist and leases out land in Montana for fossil digs. He goes twice per year and spends a couple weeks each time at the Hell Creek formation. The artifacts in the museum aren't limited to fossils, although they do make up a big part of it. There are pieces collected from all over the world including a mummified falcon from Egypt, pottery, jewelry and coins from Greece and Rome, Aztec artifacts from Mexico, weapons and jewelry from Vikings and Native American pieces from the Caddo Indians found right here in Lufkin, TX. It's an impressive collection and that isn't even the tip of the iceberg.
The museum opened its doors in 2012 and started as a private non-profit. It later shifted to a public non-profit and operates with a museum board in place in order to best serve the community. One of the initiatives that has always been important is keeping ticket prices low and thereby accessible to everyone. The museum offers free admission days like the one coming up for kids on December 15th and they keep their staff small to help keep prices low. The average visitor is described as; typically families with children, grandparents and grandchildren and school groups. It takes about 45 minutes to an hour to tour the museum but you could easily spend more time reading and exploring.
As I gazed up at the larger than life fossils I asked which one they are most proud of. Hands down the Edmontosaurus (Mary Ann Hadrosaur) which is between 80-90% real. The fact it was such a large intact skeleton and has fossilized skin impressions on the tail and feet is a very big deal because typically skin doesn't get preserved which makes it harder to tell what dinosaurs really looked like. The dinosaur is named after Dr. Naranjo's wife, which I'm pretty sure is the equivalent of true love in the paleontology community.
In addition to the vast collection owned by the museum there are a few exhibits on loan like the one from NASA and some of the Native American artifacts. For kids in grades 1st-7th Summer camp is offered and various subjects like dinosaurs, space, earth history, archeology and much more are explored. 2019 was the first year scholarships were available made possible by the Kiwanis Club. In addition to Summer camp the museum has hosted their share of private events should you want to celebrate your birthday or have a murder mystery party. My favorite story was the wedding that took place in front of the Mammoth exhibit. The couple had their first date at the museum and decided there was no better place to tie the knot than right there. I'm sure their guests had a great time wandering around and taking in all the museum has to offer – which is a lot. There is even a jewel room with beautiful precious and semi precious stones and jewelry from around the world. Needless to say we spent a fair amount of time admiring everything sparkly.
The Naranjo family, along with the museum board and staff are always thinking about new ways to better serve the community and improve the museum experience. Some plans for the future include adding more interactive elements, enhancing current exhibits on display and even to expand the building allowing for travelling exhibits which have minimum space requirements in order to host. Meanwhile there are some fun interactive exhibits like mini fossil dig tables that kept our daughter busy plus several buttons she could push that displayed a hologram-like Dr. Naranjo explaining more about the digs.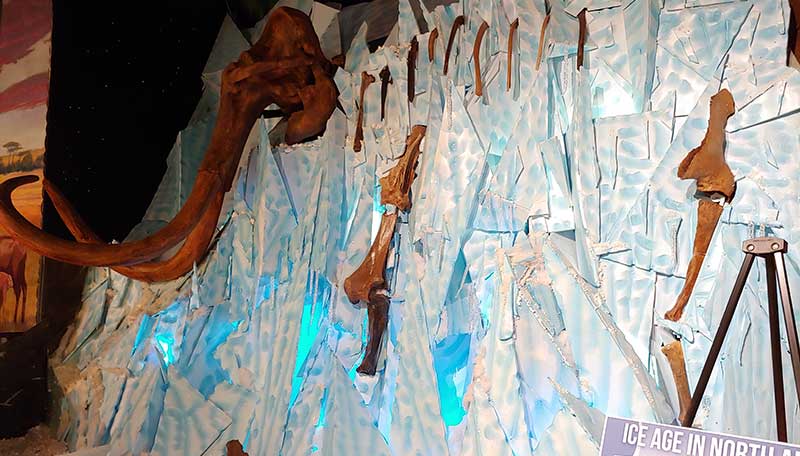 If you haven't been, I strongly encourage you to go. If you have been, chances are there are new things to see! Lufkin has a revitalized downtown, great places to shop and eat so make a day of it and visit some dinosaurs. Check their website www.naranjomuseum.org for information on museum membership, upcoming events and special exhibits.
Address: 5104 South 1st (Hwy 59S) Lufkin, Texas 75901
Hours: Monday-Saturday 10 am – 6 pm and Sunday 1 pm – 6 pm
Ticket Prices: Adult $7.50 Child (ages 4-18) $5.00
Follow them on Instagram @naranjomuseum and Facebook