When the Texas Forestry Museum popped up on my Instagram feed I was a little skeptical. How interesting could a museum about Texas Forests possibly be? Especially to a 5 year old, we like being outside with actual trees, not in a tree museum. I reached out to the Museum Director, Kendall Gay and she invited me to come by for a tour. Pleasant surprise number one, the museum is deceivingly large. It has to be to house over 28,000 items and artifacts in the collection. The Texas Forestry Association spearheaded the movement towards a museum back in the late 1950's and early 1960's when technology was seriously impacting logging, saw mills and the industry as a whole.
The museum opened its doors in 1976 and welcomes both private and school tours. Their mission is to preserve, educate and entertain. We benefited from each of those categories on our visit. I figured we would breeze through in 45 minutes to an hour but we actually spent twice that amount of time. As the museum evolves the exhibits are becoming more interactive and family friendly. The children's wing is large with a train table running the perimeter of a monstrous ox or mule drawn cart used to move or "skid" logs to railroads from forests. Eventually these carts were phased out as tractor powered carts became available in the 1950's. There is a dress-up area in Timber Town full of pioneer clothing and a makeshift house where kids can get a glimpse of how their great grandparents grew up. Pleasant surprise number two is the fact the museum allows kids (and adults) to touch, climb on, explore and play on a wide variety of retired machines and even a fire tower. Unlike most museums where you feel pressure to shush your kids or threaten them to keep their hands to themselves, The Texas Forestry Museum takes a different approach.
Pleasant surprise number 3, the museum is free! It operates as a non-profit and relies on grant funding to improve exhibits. There is an elected board and half of the members are placed by The Texas Forestry Association and include a variety of community members with different backgrounds. Museum visitors come from far and wide including Australia, Thailand and Chile. With only 3 full time staff members the museum is grateful for the volunteers that help throughout the year. Particularly around the holidays when they host Santa Claus Express. Partnering with the Lufkin High School STEM Program has been a success for students who learn valuable social skills and giving back to their community while the museum appreciates their help to keep events running smoothly.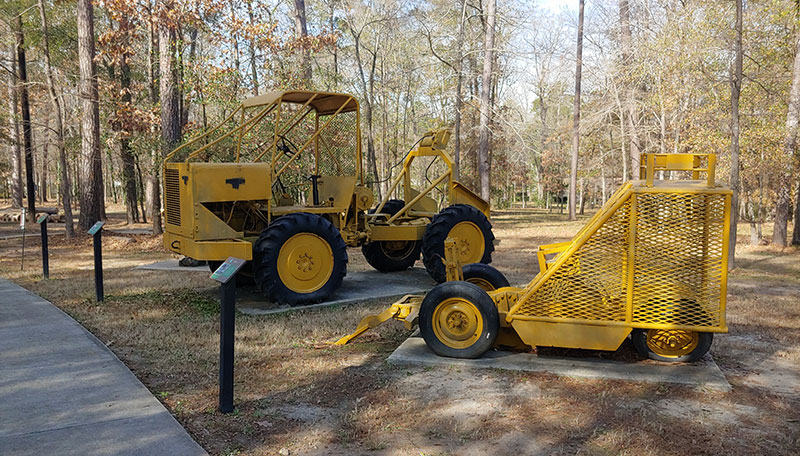 The museum offers summer camps that I would be excited to attend. The younger kids are dubbed, "Timber Tots" and enjoy themed weekly programs including learning about native forest animals, doing crafts, having story time, playing games and eating snacks. There are programs available for older kids too with similar themes but more advanced activities and field trips. Adults can benefit from their lecture series offered 3 times per year. These lectures cover topics like nature photography and demonstrations from local woodworkers and craftsmen. The museum also gives back to the community by participating in the CASA Home Tour and Touch a Truck along with the Junior League. In order to keep admission prices free and continue to improve exhibits the museum is grateful to their active donors. As a thank you to their donors the museum sets up member exclusive events where artifacts from the collection that are not presently on display are introduced and shared.
Now that we know more about what the museum is, let's touch on what it is not. You can't buy lumber from the museum, it's one of the calls they frequently get. You can, however, go on a scavenger hunt, ring the bell and climb in an old locomotive, wrap twigs, explore the gift shop, have a picnic outside and play games, share your story if you worked in the lumber industry, make a wish on the wishing tree and so much more! You can even book a birthday party. With Kendall's enthusiasm for preserving history and making it relatable to our future generations you can be sure the museum isn't stuffy or intimidating. You can spend as little or as much time as you like, with free admission it's a great place to take the whole family and out of town guests. If you are anything like us you will want to see everything then go back through and spend some time exploring what caught your eye. We loved the doctor exhibit and enjoyed learning about the services provided, instruments used and the fact the logging company would take a little money from each employee's paycheck and give it to the doctor so the laborer and his family could utilize the doctor's services, early health insurance if you will.
Kendall is a Lufkin native, with her undergrad in history from A&M and her Masters in public history from SFA. She is devoted to sharing and preserving our past and how we are all connected. Since the museum is a non profit the small staff comes together frequently and performs many improvements themselves. In 2020 you can expect to see some renovations that will reflect a modern approach to the museum's layout, offering a more inviting browsing experience. I hope you take advantage of this free and family friendly destination where you can gain some valuable insight into the history of East Texas while having fun along the way.
Texas Forestry Museum
1905 Atkinson Dr. Lufkin, TX
Monday-Saturday 10 am-5 pm
Social media @txforestrymuseum
www.treetexas.com